Here's a little bit of background, in case your wondering about me (if not,  just ignore me!). I have dual British/Turkish Cypriot nationality and  spend most of my tine now in North Cyprus (beats the British weather!).  I'm a qualified personal trainer, sports and massage therapist, and write  freelance feature articles on health, fitness, and various lifetyle subjects.  Prior to this, I also worked for Hertfordshire Constabulary for ten years.
My debut novel, Fourteen Days Later, was short listed for the Harry  Bowling  Prize 2008 and received a highly commended by the Yeovil  Literary Prize 2009. It is a romantic comedy with a unique infusion of British and Turkish Cypriot culture. Written in a similar style to Sophie Kinsella and Marian Keyes, Fourteen Days Later is My Big Fat Greek Wedding meets Bridget Jones. My Perfect Wedding is the sequel to Fourteen Days Later, although it can be read as a standalone novel.
The Fashion Police was a runner up in the Chapter One Promotions Novel Competition 2010 and nominated Best Novel with Romantic Elements 2010 by The Romance Reviews. It is a screwball comedy-mystery, combining murder and mayhem with romance and chick-lit, and the first in a series featuring feisty, larger-than-life insurance investigator, Amber Fox. Written in a similar style to Janet Evanovich and Myron Bolitar, The Fashion Police is Stephanie Plum meets Harlan Coben. Be Careful What You Wish For is the second Amber Fox Mystery.
I don't know about you but my stomach is rumbling from hunger at the mo so I'm going to post an excerpt from my romantic comedy My Perfect Wedding along with a scrummy recipe Turkish Köfte (meatballs). I'm sure those who know me will notice a pattern of lots of garlic in my recipes! It must be the Mediterranean in me. Still, at least it proves I'm not a vampire, and garlic has also got fantastic health benefits! You can also win an ebook copy of My Perfect Wedding today!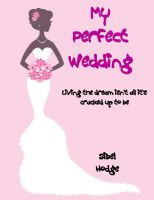 About My Perfect Wedding…
"The fun never stops and you will find yourself laughing out loud at odd moments throughout the story. Ms. Hodge is rapidly becoming a favorite of mine." –Coffee Time Romance & More
Helen Grey is finally getting everything she wants. She's about to have the perfect dream wedding and begin an exciting new life abroad on the sunny Mediterranean island of Cyprus. But living the dream isn't all it's cracked up to be.
After a mix-up at the airport, Helen finds herself drawn into the midst of an elaborate plot to steal an ancient statue and assassinate a local businessman. And as if that wasn't bad enough, her wedding dress is AWOL, the statue seems to be cursed, and Helen is wanted by the police.
With the big day rapidly approaching, a roller-coaster of mishaps, misunderstandings, and disasters threatens to turn the newlyweds into nearlyweds.
Can Helen prevent an assassination, save the statue, and have the perfect wedding? Or will the day to remember turn into one she'd rather forget?
Excerpt…
'I want to get a look at the Queen Cleopatra sculpture while we're here. I have to see it. It could be the only chance I ever get to actually look at it in real life,' Kalem whispered to me.
'Is it already on display? Or are they just putting it out on the opening night?'
Kalem shrugged. 'I have no idea. The article didn't say. But I have to try and get a glimpse of it if it's already here.'
'Are you really sure you want to look at it? It's cursed. You might die if you look at it.' I sighed. All this talk about nuts and statues was wearing me out. I felt a hopeless fatigue settle over me. Maybe I was just weak from hunger and needed something to eat.
'It's not cursed.' He shook his head at me.
'Hmm,' I said in a disbelieving tone.
We peered into the bar areas. No ugly statue. Good.
'How about the restaurants?' Kalem said.
Nope, we peeked in all of them. Lots of party-frocked and poshly-suited people, but no sculpture. We covered the ground floor and couldn't see it. What a shame. Not!
'What about the lower ground floor?' Kalem suggested. 'Maybe it's down there somewhere.'
We descended the stairs to the lower ground floor. Wow! The hotel was huge. Classy – and obviously very expensive – boutiques lined either side of a large walkway. As the boutiques came to an end, the spa and fitness centre loomed in front of us. We didn't bother looking in there. Unless Cleopatra was finally getting an upper lip wax, it seemed an unlikely place to show it.
We had a choice of going to the casino, or taking another walkway off to the pool, beach, and the hotel's own port.
Hmm, probably not enough time to go traipsing around the pool. 'Let's look in the casino then.'
'OK.'
I felt like I'd stepped into a scene from Oceans 11. Lots of ching ching and bling bling going on.
We eased our way around the poker tables, roulette wheels, and various slot machines, and came across a free merchandise stand. I ignored it. Why would I want a baseball cap or T-shirt with Plaza Casino on it? Instead, something much more interesting caught my eye: A free buffet area. My stomach growled at me. I hadn't eaten anything since lunchtime. God, I was starving. Yes, that was definitely what I needed. Food.
I grabbed a plate and hastily piled it high with food: some warm, fresh Turkish bread topped with toasted sesame seeds and aniseed, garlicky humus, some spicy Turkish meatballs, and salad.
'What are you doing?' Kalem raised an eyebrow at me.
'I'm starving,' I said, in between shovelling food in my mouth. 'I'll be two minutes. You go and look for it while I eat this. I don't really want to clap eyes on the ugly sculpture anyway. It might give us an even bigger curse.'
Kalem disappeared on his mission while I stood at the buffet, scoffing. My eyes wandered around the room, taking in the high-rollers betting thousands of pounds on the flick of a chip. I was just studying the sombre expression of a business-suited elderly guy with a woman hanging on his arm who looked about twelve, when I stopped eating mid-bite.
It was Ferret Face. Here! In the casino. With us!
His black beady eyes darted around, as if casing the joint; getting the lie of the land, so to speak (think I'd heard those expressions in a crime movie once).
An icy chill slammed through my veins.
And here's the recipe for scrummy Turkish Köfte
Ingredients (serves 6)
1 lb ground beef or lamb (or turkey for healthier option)
1 big onion, grated
1 egg
1/3 cup chopped fresh parsley
2 tsp dried chilli flakes or fresh chopped chillis (optional)
½ tsp cinnamon
pepper and salt to taste
4 cloves crushed garlic (or more if you're not a vampire!)
Method
Mix all the ingredients in a large bowl using your hands. Then knead it like dough to bring all the ingredients together. Grab egg size pieces and round them in your hands like a hamburger.
Grill or fry them in a pan until they turn golden brown, or for best results barbeqeue them!
They taste delish served with Cacık (minted yoghurt dip)
200g/7oz Natural yoghurt
2 tbsp dried mint
2 cloves crushed garlic
Juice of half a lemon
Salt to taste
Tablespoon of olive oil
Top with a pinch of cayenne pepper
Serve with warm flatbread or pitta bread.
OK, here we go with the giveaway…one fab person who leaves a comment to this post will win an ebook copy of My Perfect Wedding!
All my novels are available in paperback and all ebook formats. For more info, check out my website.
Enjoy! XX
About the Author
Posts in the Past
Sibel Hodge is the Amazon Top 100 Bestselling Author of Fourteen Days Later and Money, Lies, and Murder (Amber Fox Mystery). She has 8 cats and 1 husband. In her spare time, she's Wonder Woman! When she's not out saving the world from dastardly demons she writes an eclectic mix of romantic comedies, mysteries, thrillers, children's books, and non fiction. Her other books include My Perfect Wedding, The Baby Trap, Fashion, Lies, and Murder (Amber Fox Mystery), Voodoo, Lies, and Murder (Amber Fox Mystery), Chocolate, Lies, and Murder (Amber Fox Mystery), The See-Through Leopard, How to Dump Your Boyfriend in the Men's Room (and other short stories), It's a Catastrophe, Healing Meditations for Surviving Grief and Loss, A Gluten Free Taste of Turkey, and A Gluten Free Soup Opera.
Her work has been shortlisted for the Harry Bowling Prize 2008, Highly Commended by the Yeovil Literary Prize 2009, Runner Up in the Chapter One Promotions Novel Comp 2009, nominated Best Novel with Romantic Elements in 2010 by The Romance Reviews, Runner Up in the Best Indie Books of 2012 by Indie Book Bargains, and Winner of Best Children's Book by eFestival of Words 2013. Her novella Trafficked: The Diary of a Sex Slave has been listed as one of the Top 40 Books About Human Rights by Accredited Online Colleges.