I often get asked the question in interviews whether I plan out my plot in advance before I start writing. Urgh, the dreaded P word, I think! I hate plotting. Absolutely hate it!
There are some authors out there who won't type a single letter until they've got every inch of their plot structure finely tuned in advance. Some authors know their characters intimately before they begin writing, down to what they just had for breakfast. And I wish I could be like that, I really do. I think it could make my job a whole lot easier. But I'm definitely a fly by the seat of my knickers kind of girl! If I get too hung up spending a lot of time plotting in advance, I tend to lose my creativity. I start thinking about it too much and get nowhere. I think I must suffer from some kind of plot dyslexia, because as soon as I pull out a pad and pen and start trying to come up with vast plot notes, the words swim in front of my face in a blur. Is there such a thing as plot-o-phobia?
But do we actually need a plot? Well…yes. Unfortunately, it's a necessary evil if you want to write a novel. Without a plot, it's just words on the paper. Your plot should encompass all sorts of things: goals of the characters, conflict, crises, turning points, climax, resolution. And everything you write should advance the plot, although I personally think when writing comedy, you can get away with a few extras in there!
When I wrote my debut romantic comedy, Fourteen Days Later, I didn't have a clue about any kind of plot, or characters, or structure. All I knew was that my heroine had to do a fourteen-day life-changing challenge, where she completed a new task every day. I knew my ending, but I didn't have a clue what happened in the middle. Hmm…slight problem, I hear you say! Well, yes, but as soon as I started tapping out the words on the keyboard it all developed naturally. My characters invented their own plot as they went along.
So far, so good, but what about the next novel? Surely this must've been some bizarre fluke, and I'd have to actually think of a plot in advance for the next one. Well, yes and no. My second novel, The Fashion Police, was a comedy mystery. Because of the mystery element, I did need to know a few things before I started. Otherwise how would I weave in all the clues? So this time I did actually write an eency weency plot before I started. It was about three lines for each chapter of things I needed to happen. That was it, though, and I still didn't have hardly any of my "clues" in there. But again, it all seemed to come together as I wrote it. Creative or crazy? I'm not sure which.
With my third novel, My Perfect Wedding, I was getting really stressed trying to plot. My mind was just a blank. I knew that Helen Grey (my heroine from Fourteen Days Later) was moving to Cyprus to get married, and that she got mixed up in a crazy plot to assassinate a local businessman and steal an ancient statue. But that was all I knew! I read about different plot techniques like the Snowflake method and using index cards or graphs to detail the plot, even plotting software, but the plot-dyslexia was kicking in big time! Robert McKee's Story is an excellent book, by the way, for plotting. (It's for screenplays but works just as well for novels.) But none of it helped me in writing a plot in advance. I wrote a few lines for the first two chapters and after that, nada! So once again, I just started to write and my characters invented their own story. The voices in my head just tell me to do things. Good job I write, otherwise I might have to be medicated!
My fourth novel was also a mystery, so again I thought I'd need to at least write some lines of plot to allow for my clues. And this time I did it! Hurrah, I wrote out my plot in advance, doing a storyboard of a paragraph per chapter of things I needed to include. In a lot of ways it was easier to write Be Careful What You Wish For in this way, but now I'm trying to think of the plot for my next novel and have a big stress-head thing going on because I feel like I should be plotting in advance.
In my world (which is sometimes scary!) my plot advances on its own, with one scene following on from the next. And what works for one author won't work for another. Even what works for one novel won't always work for another However you choose to write a novel or story is very personal. Who knows whether I'll finally get to write an advanced detailed plot for my next novel? Watch this space and I'll let you know!
I'm going to give away an ebook copy of my chicklit mystery Be Careful What You Wish For to one fab person who leaves a comment to this post!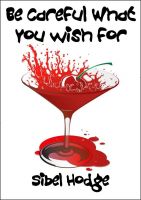 About Be Careful What You Wish For…
"Ms. Hodge has written a funny and suspenseful story much in the style of Evanovich's Stephanie Plum books. The plot is fast moving and the dialogue very witty. The mystery is intriguing and interesting, even to people who have no interest in boxing" Coffee Time Romance & More
For fans of Janet Evanovich, Kate Johnson, and Gemma Halliday…
Armed with cool sarcasm and uncontrollable hair, feisty insurance investigator Amber Fox is back in a new mystery combining murder and mayhem with romance and chicklit…
Three deaths.
A safety deposit box robbery.
The boxing heavyweight champion of the world.
Somehow, they're all related, and Amber has to solve a four year old crime to find out why.
As she stumbles across a trail of dead bodies and a web of lies spanning both sides of the social divide, it's starting to get personal. Someone thinks Amber's poking her nose in where it's not wanted, sparking off a game of fox and mouse – only this time, Amber's the mouse.
Amber's forced to take refuge in the home of her ex-fiancé, Brad Beckett, and now it's not just the case that's hotting up. So is the bedroom…
All Levi Carter wanted to be was the boxing heavyweight champion of the world, but at what cost?
All Carl Thomas wanted was to be rich, but would his greed be his downfall?
All Brad Beckett wants is to get Amber back, but there's a reason for the ex word.
Be careful what you wish for…you might just get it.
All my novels are available in paperback and all ebook formats. For more info, please check out my website.
Good luck! xx
About the Author
Posts in the Past
Sibel Hodge is the Amazon Top 100 Bestselling Author of Fourteen Days Later and Money, Lies, and Murder (Amber Fox Mystery). She has 8 cats and 1 husband. In her spare time, she's Wonder Woman! When she's not out saving the world from dastardly demons she writes an eclectic mix of romantic comedies, mysteries, thrillers, children's books, and non fiction. Her other books include My Perfect Wedding, The Baby Trap, Fashion, Lies, and Murder (Amber Fox Mystery), Voodoo, Lies, and Murder (Amber Fox Mystery), Chocolate, Lies, and Murder (Amber Fox Mystery), The See-Through Leopard, How to Dump Your Boyfriend in the Men's Room (and other short stories), It's a Catastrophe, Healing Meditations for Surviving Grief and Loss, A Gluten Free Taste of Turkey, and A Gluten Free Soup Opera.
Her work has been shortlisted for the Harry Bowling Prize 2008, Highly Commended by the Yeovil Literary Prize 2009, Runner Up in the Chapter One Promotions Novel Comp 2009, nominated Best Novel with Romantic Elements in 2010 by The Romance Reviews, Runner Up in the Best Indie Books of 2012 by Indie Book Bargains, and Winner of Best Children's Book by eFestival of Words 2013. Her novella Trafficked: The Diary of a Sex Slave has been listed as one of the Top 40 Books About Human Rights by Accredited Online Colleges.